Anderson - 2008 Golden Boy award winner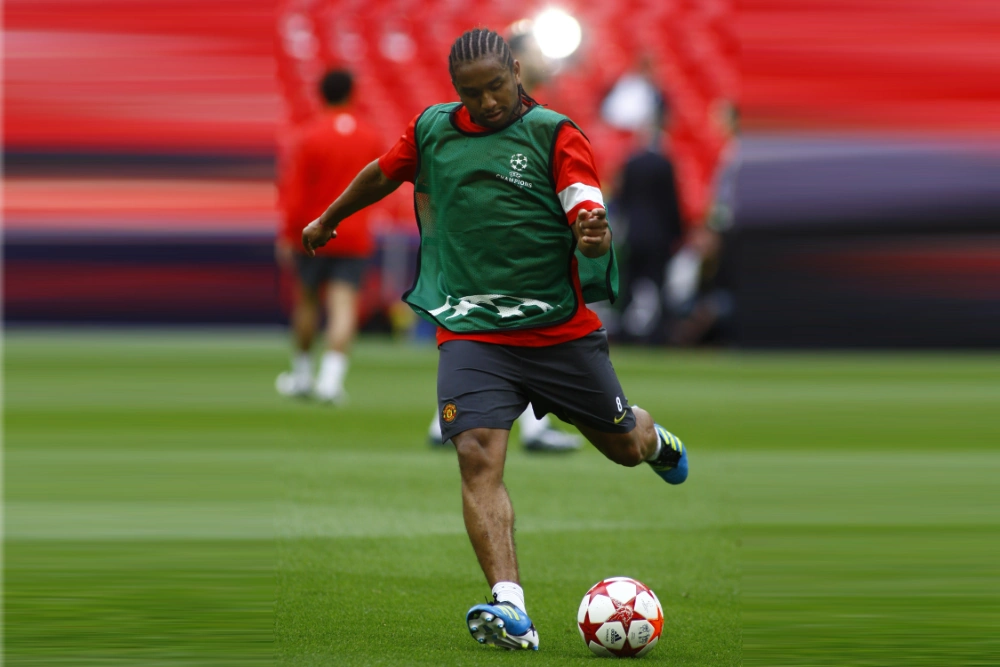 Award date
6 Dec 2008
Award age
20 and 237 days
Nationality
Brazil
Position
Midfielder
Club (when winning)
Manchester United
Birth date
13 Apr 1988
Retired year
2020
Currently doing
Assistant manager of Adana Demirspor
The Golden Boy award winner of 2008 was the Brazilian talent Anderson, snitching the award ahead of English Theo Walcott and Argentinian Sergio Agüero (who wan the award the year before).
Got his football schooling in Grêmio
Anderson, full name Anderson Luís de Abreu Oliveira, was born in Porto Alegre in Brazil on the 13th of April in 1988. When he was a kid he joined the the local Porto Alegre club Grêmio and played there all his childhood until he was given a professional contract with the club in 2004.
In the senior team in Grêmio he had his ups and downs with the team. Anderson scored in his debut against Internacional (although the team lost with 1-3) and the team was relegated to the Brazilian Série B the same season. The following season were promoted to Brazilian Série A again, after a kind of legendary play-off match in Brazil against Náutico where Anderson in the end was the great hero bringing Grêmio to a victory.
Move to Portugal and Porto
In January 2006 joined the Portuguese team FC Porto for a €7 million transfer fee. He made his debut for his new club in March the same year and thus, were part of the team that won the Portuguese Primiera Liga that season. In the following season he played 15 games for Porto, despite being out for five months because of a broken leg, and won another league title for the club.
Joining Manchester United in 2007
In May 2007 it was announced that Manchester United had bought the very talented Anderson for €31.5 million, and he debuted for the Manchester club in a friendly game on the 3rd of August 2007. In his second season in United, on the 6th of December 2008, he received the Golden Boy award. This was a bit surprising considering he was not a regular starting player in United and he had yet not scored a single goal for the club in a competition match at the time.
In total Anderson stayed seven and a half seasons in Manchester United but was on loan to Fiorentina for the second half of season 2013/2014. United bought Anderson for a pretty huge sum (at that time) and he surely was a talent when he arrived to the club, but for each season he got lesser and lesser time on the pitch. He only scored nine goals in 181 competitive games
Back to Brazil
In February 2015 Anderson signed as a free transfer for the Brazilian club Internacional (the team he made his senior debut against). After getting some initial playing time he here as well got further and further away from receiving playing time. In 2017 he went on loan to another Brazilian team, Coritiba, but didn't make a big impression their either.
Europe once again
After the lack of success back in Brazil Anderson left for Europe once again, this time to Turkey and Adana Demirspor, which he signed for on the 30th of July 2018. Once again he failed to make an impression and just after the start of his second season in the club he announced his retirement, after playing in total 15 games for the club without scoring any goals.
In the Brazilian national team
Anderson was a regular in the Brazilian U17 team, back in the days when he was a huge talent. He was also a frequent scorer there, scoring seven goals in 12 matches.
He also played eight matches for the senior Brazilian national team. His debut was on the 27th of June 2007 against Mexico in Copa América. Apart from playing a Copa América tournament for Brazil he was also part of the Summer Olympics team in 2008, winning a bronze medal with there.
Links related to Anderson