Wayne Rooney - 2004 Golden Boy award winner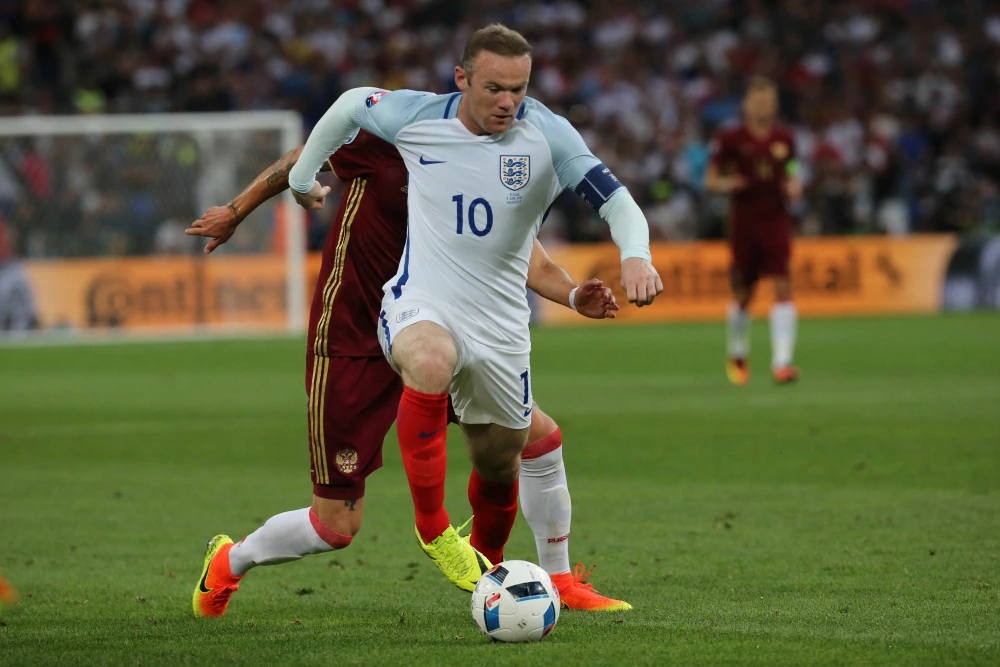 Award date
13 Dec 2004
Award age
19 and 50 days
Nationality
England
Position
Forward
Clubs (when winning)
Everton, Manchester United
Birth date
24 Oct 1985
Retired year
2021
Currently doing
Manager for D.C. United in MLS
The winner of the second Golden Boy award in 2004 was Wayne Rooney, who snitched the award ahead of his team mate Cristiano Ronaldo and the Spanish Atlético Madrid player Fernando Torres.
Starting his career in Everton
Rooney was born in Liverpool on the 24th of October in 1985. He joined Everton youth academy early as a nine-year-old kid and played there all the way up to his senior debut. He played his first match for Everton on the 17th of August 2002 against Tottenham, and scored his first two goals for the club in a League Cup match against Wrexham, making him the youngest goal scorer in the clubs history.
He played two seasons in Everton and during this time he built up a reputation for being one of England's most promising young players, even named as the biggest English talent that Arsenal's manager Arsène Wenger had seen in his years in England. In July 2004 Manchester United paid £20 million to Everton for his signature, and Rooney signed a five year contract with The Red Devils.
His time in Manchester United
Rooney was still only 18 years old when he joined United and he started off his time there with a big bang. In his debut for the club, in a UEFA Champions League match against Turkish Fenerbahçe, he scored a hat-trick and assisted to one goal in United's 6-2 win. In his first year, mind only 18 years old when the season started, he scored 17 competition goals in 43 matches.
He played 13 seasons in Manchester United and he scored more than 10 goals in Premier League each season during his first 11 seasons there. His best result was 27 goals in the season 2011/2012. In total he represented United in 559 competition matches and scored 253 goals, being the best goal scorer in United's history. He helped the club to five Premier League titles, one Champions League title, one Europa League title, one FA Cup title and three League Cup titles.
Back in Everton
In July 2017 Rooney ended his time in Manchester United and re-joined his childhood club Everton as a free transfer. He only stayed for a season this time in Everton without being able to help Everton to any greater success. In June 2018 Rooney decided to leave Everton and England and move to the United States, joining the club D.C. United in the Major Soccer League.
In the United States
Rooney had a good spell in D.C. United and stayed there for two seasons. In October 2018, his forth month in the club, he was named the MLS Player of the Month. He played 52 competition matches and scored 25 goals for the club, and helped the club reaching two MLS Playoffs, although they were knocked out in the first round both times.
Playing, coaching and managing in Derby
In January 2020 he was attracted to join the EFL Championship club Derby in his home country, combining playing with a coaching role. A year later, in January 2021, he was appointed as full time manager for Derby and decided at that moment to end his career as a player.
The first season as a manager Derby just about avoided relegation to League One. In the second season the club had substantial financial problems and there were plenty of turmoil in the club preventing the club from signing any players, among other things. Rooney couldn't save the club from relegation but got some appraisal for what he managed to do with the club with such limited resources.
In July 2022 it was announced that Rooney were to return to the United States and join his former club D.C. United as their head coach.
Wayne Rooney playing for the England national team
Rooney did play a few youth team international matches for England but he debuted record early in the senior national team, at the age or 17 years and 11 days in friendly game against Australia. He scored his very first national team goal in a UEFA Euro qualification game against North Macedonia at the age of 17 years and 317 days.
He played for England in three FIFA World Cups (2006, 2010 and 2014) and three UEFA Euro (2004, 2012 and 2016). In total he played 120 matches with England and scored 53 times during these matches.
Records by Wayne Rooney
Here are some of the many impressive achievements that Rooney accomplished during his playing career.
When Rooney scored his first Premier League goal for Everton he was the youngest player ever scoring in EPL.
He scored a hat-trick in his first Champions League match, which was also his debut for the club, making him the youngest hat-trick scorer in the UCL history at the time, being 18 years and 335 days old.
Rooney is the best goal scorer in Manchester United ever, scoring 253 goals during his 13 seasons there.
He is both the youngest player ever (17 years and 111 days old) as well as the youngest goal scorer (17 years 317 days) in the English national team.
Q&A about Wayne Rooney
Could Rooney have played for any other national team than England?
Yes, he is of Irish decent so he could have represented Ireland instead of England, but it was never any question for Rooney which country he wanted to play for.
Does Wayne Rooney have any kids?
Yes, he and his wife Coleen Rooney (McLoughlin) has four sons. The first son Kai was born on the 2nd of November 2009 and the last one, Cass, was born on the 15th of February 2018.
Does Wayne Rooney have a drinking problem?
Well, he is not an alcoholic but he have had his issues with alcohol through his life. He has been arrested and convicted for drink driving, and he has on numerous occasions been figuring in tabloid newspapers for things happening while being drunk.
Links related to Wayne Rooney