Alexandre Pato - 2009 Golden Boy award winner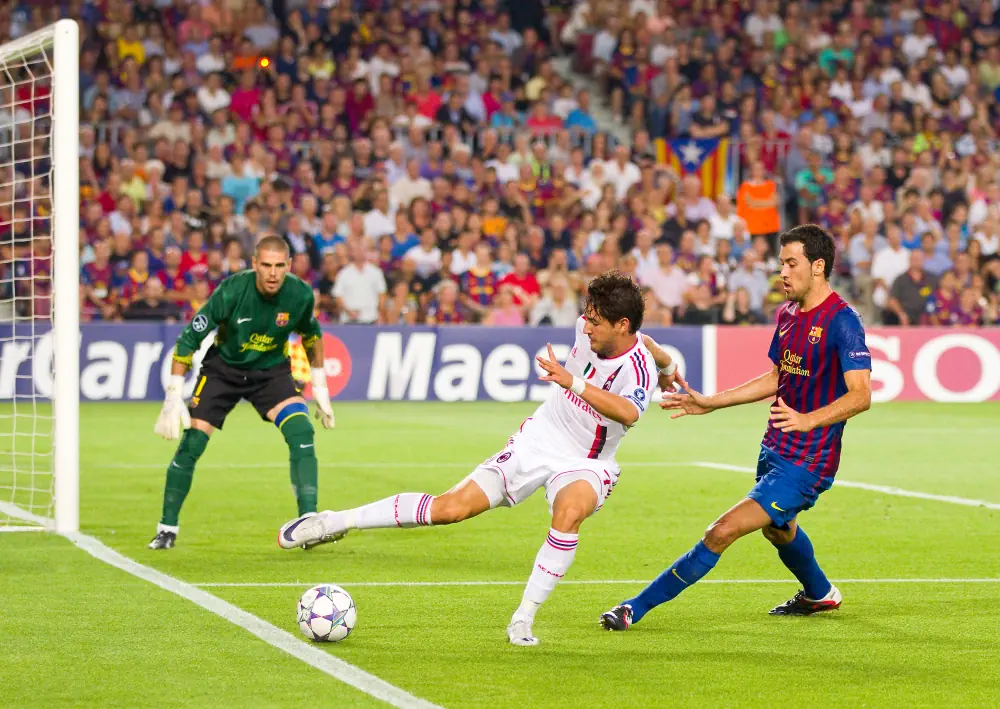 Award date
13 Dec 2009
Award age
20 and 102 days
Nationality
Brazil
Position
Forward
Club (when winning)
AC Milan
Birth date
2 Sep 1989
Current club
São Paulo
The Brazilian striker Alexandre Pato, playing for AC Milan at that time, won the Golden Boy award in 2009. Stevan Jovetić from Montenegro was second and third was Barcelona's and Spain's Bojan Krkić.
Alexandre Rodrigues da Silva, as Pato's full name is, was born in Pato Branco on the 2nd of September 1989. He started his football career in the youth teams of Internacional in the city of Porto Alegre, and played 18 matches and scoring 7 goals (he scored in his debut in the first minute) in the club before AC Milan signed the super talent on the 2nd of August 2007 for a transfer fee of €27 million.
Starting brilliantly in Milan
His time in AC Milan was initially a huge success. He scored in his first match in Serie A when Milan won against Napoli with 5-2 on the 13th of January 2008. For the coming three and a half seasons he was one of AC Milan's most important players, and definitely considered one of their biggest talent. During these seasons he scored 50 goals in 102 Serie A matches, a scoring percentage of just below 50%.
In the season 2011/2012 Pato really started to struggle. He had some injury issues but was consistently performing bad when he was on the pitch (except for a glorious goal against Barcelona in the Champions league). Maybe Milan saw it coming that Pato would never be the super star many thought he would be, because when Paris Saint-Germain wanted to buy him in January 2012 Milan was ready to sell, but Pato rejected the move. Pato continued to play badly in the first half of the 2012/2013 season and in January 2013 Milan sold him to the Brazilian club Corinthians for €15 million.
Back to Brazil
Back in Brazil it started off brilliantly again. He scored for Corinthians on his first touch when coming on as a substitute in a 5-0 win against Oeste. The rest of his time Corinthians was not as fun though. The fans got really tired of him missing chances consistently and he was criticised all the time. In the second season Corinthians no longer wanted him and instead shipped him to São Paulo on a two year loan deal. He stayed there from January 2014 until December 2015, playing 62 matches and scoring 19 goals.
Back to Europe
After the loan deal ended Pato returned to Corinthians, but instead of staying there he went on a another loan deal, this time for half a year to Chelsea in the Premier League. However, Guus Hiddink, who was the manager in Chelsea at the time, did not really have Pato in his plans and decided not to play him, despite being reportedly fit. In his debut he did however score, on a penalty, but apart from that game he only played one more in Chelsea before the contract ended.
When his contract with Chelsea ran out Corinthians still didn't want to have him back so instead he was sold (60% of him at least) by the Spanish La Liga club Villarreal. He did score in his debut (as usual) but in the end it was another failed transfer. He scored two goals in 14 matches during his time in Spain.
Going to China
In January 2017 moved to China as he signed for the club Tianjin Quanjian for a fee of €18 million, which was a very high transfer fee considering what Pato had achieved in the last years. For the first time Pato did not score in his debut for a new club. He did score consistently in China though, 30 goals in 47 games, but it was of course in a league far away from big scene.
After two years in China he returned to Brazil, and once again he was going to play for São Paulo. His one and half year this spell was not a success (once again) and in the end his contract with the club was terminated.
A half year later Pato moved to the American Major Soccer League (MLS) as he signed for Orlando City SC on free transfer in February 2021. After his debut a knee injury kept him away from playing for half a year. He only played four matches his first season, without scoring, and in his second season he only scored four goals in 27 matches. When the contract ended in November 2022 Orlando choose not to renew it.
Alexandre Pato in Brazil's national team
Pato started off in the Brazilian national team in the U20 team. With this team he won the South American U-20 Championship in 2007. He also represented the Olympian team of Brazil in the Summer Olympics 2008 in Beijing, where Brazil won the bronze medal.
On the 26th of March 2008 he debuted for the senior national team against Sweden in a friendly game in London and scored a goal within his first few seconds on the pitch. He was part of the Brazilian team in Copa América in 2011 and played another Summer Olympics in London 2012, where Brazil lost the final against Mexico but got a silver medal.
Records by Alexandre Pato
Some of Pato's records and most memorable achievements in his career.
In his first senior year of football , playing for his Brazilian club Internacional, Pato scored a goal against the Egyptian club Al Ahly in the FIFA Club World Cup at the age of 17 years and 102 days. This made him the youngest player ever to score in a FIFA tournament for senior men, breaking the record held by his fellow countryman Pelé.
His most memorable goal in his career is a goal against Barcelona in the Champions League. He scored a fantastic goal after only 24 seconds when he demonstrated his fantastic speed. That goal was the fifth fastest goal in UCL ever.
After his first years in AC Milan he had built up a very good reputation, so when he had a really horrible last season in the club he was "awarded" the Bidone d'oro (Golden Bin) for that season, given to the worst performing player of the season.
Pato have played professional football in six different countries on four different continents during his career: Brazil (Internacional, Corinthians and São Paulo), Italy (AC Milan), England (Chelsea), Spain (Villareal), China (Tianjin Tianhai) and USA (Orlando City SC).
Q&A about Alexandre Pato
Have Alexandre Pato played for Paris Saint-Germain?
No he has not, but actually Paris Saint-Germain wanted to sign him badly in January 2012. They had already agreed the terms of a transfer with AC Milan but Pato rejected the deal, on the ground that he was devoted to AC Milan.
Does Pato always score in his debut for new clubs?
Well, he did score in his first competition game for his first six clubs, plus his debut in the senior national team of Brazil, but he did not score in his debut in his Chinese club Tianjin Quanjian. That seem to have broken the spell because have not scored in his debut ever since.
Have Pato played in the FIFA World Cup?
No, Pato has never been part of any Brazilian squad playing in the FIFA World Cup. He has represented Brazil in two Summer Olympics (2008 and 2012) and one Copa América (2011) though.
Have Alexandre Pato dated Berlusconi?
Yes, he had a relationship with Barbara Berlusconi, the daughter of Silvio Berlusconi, for two and a half years.
Links related to Alexandre Pato
News and articles about Alexandre Pato