Cesc Fàbregas - 2006 Golden Boy award winner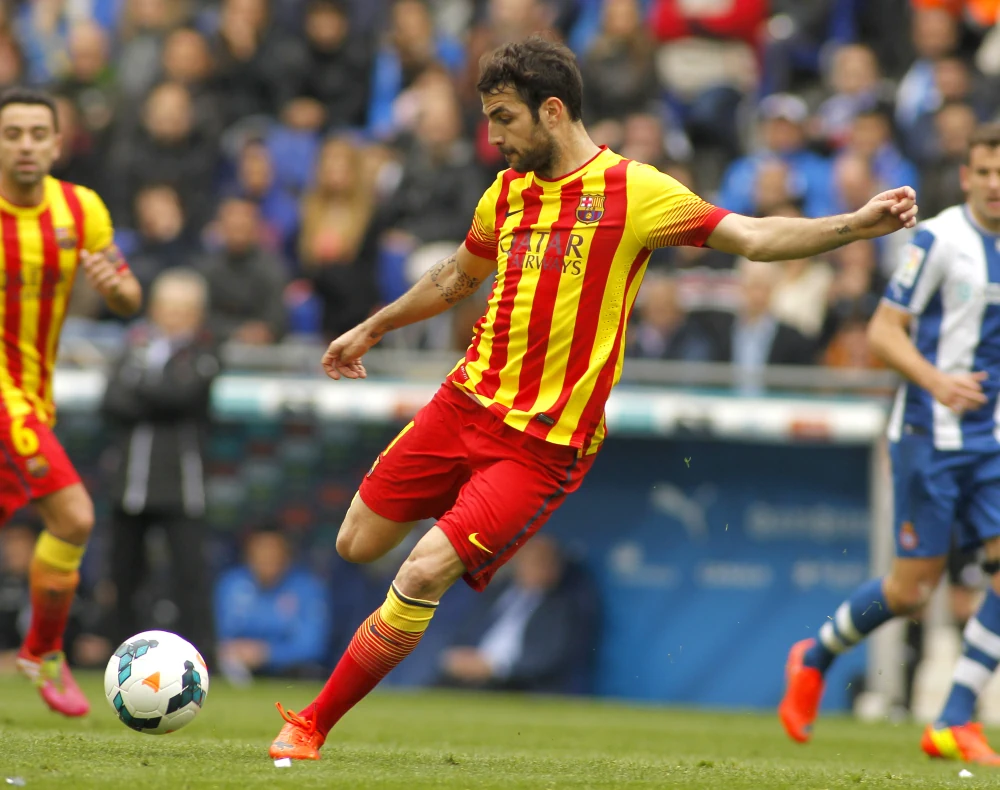 Award date
2 Dec 2006
Award age
19 and 212 days
Nationality
Spain
Position
Midfielder
Club (when winning)
Arsenal
Birth date
4 May 1987
Retired year
2023
The 2006 winner of the Golden Boy award was the Spanish Cesc Fàbregas, playing for Arsenal at the time of receiving the award. Second this year was Lionel Messi (who won the award the year before) and third the Brazilian Anderson (who would come to win the award two years later).
His real name is Francesc Fàbregas Soler, so his first name Cesc that everyone uses is actually a nickname, was born on the 4th of May 1997 in the small town Arenys de Mar just north of Barcelona. He started playing football in CE Mataró but joined the youth academy of his favourite club Barcelona in 1997. After several years in Barcelona he made a move to Arsenal in September 2003 at the age of 16.
His time in Arsenal
Less than two months after he joined Arsenal he made his debut for the senior team in a League Cup game against Rotherham United, only being 16 years and 177 days which made him the youngest player in Arsenal's history playing a senior match. However, he had to wait until the following season 2004/2005 before he would make his debut in the Premier League. Because of injuries on other senior players in Arsenal he quickly became a starting player for the club, and performed very well.
He stayed eight seasons in total in Arsenal and during those year he was considered one of the best players in the club. This was however a time when Arsenal was not exactly a regular title winning team so his only important title won with Arsenal was a FA Cup title in the season of 2004/2005. He played 303 competition games for Arsenal and scored 57 goals in those matches.
Coming home to Barcelona
Although he left FC Barcelona as a young teenager he never made it a secret that Barcelona was the club in his heart, and after mutual interest to re-join for several years he finally made a move back to Barcelona on the 15th of August 2011. Barcelona paid €29 million and Fàbregas himself agreed to pay €1 million a year from his own salary to Arsenal just to get the deal to go through.
Fàbregas stayed in Barcelona for three seasons and although Fàbregas played a lot of matches and won a few titles he was never the obvious success everyone expected him to be. One of the reasons was that in Arsenal he had a very clear playmaking role that suited his style of playing perfect, but in Barcelona, with manager Pep Guardiola, he needed to fit in with their "tiki-taka" playing style. Because of the different style of playing and that there were harsh competition for the central midfield position, Fàbregas was moved around a lot and often didn't get to play in his favourite position.
In the end Fàbregas played 151 matches for Barcelona and scored 42 goals. He got to win La Liga once and Copa del Rey once with the team. In the summer of 2014 it was time for him to move back to England, and this time he signed for Chelsea.
Back in EPL - this time in Chelsea
Chelsea paid around €33 million for Fàbregas and he signed a five-year contract with them. He started of great in his new club, being nominated for Premier League Player of the Month already the first month.
Even though his time in Chelsea was not a failure in any way he was not the success he was in his previous session in Premier League, while playing for Arsenal. However, he won two Premier League titles and one FA Cup with Chelsea during his four and half seasons, played 198 matches and scored 22 goals. In a January transfer 2019 he was done with Chelsea and made a move to play in the French Ligue 1 and the club this time was Monaco.
He stayed with Monaco for three and a half years but he had a lot of injuries during these years. Because of all the injuries, as well as not performing that great between the injuries, he only played 68 games there and scored only four goals. In August 2022 he made another move, and this time to second tier Serie B in Italy, signing for the club Como.
Fàbregas in the Spanish national teams
He was a regular player in the Spanish youth national teams and made a big impact in the FIFA U-17 World Championship in 2003 when he became the tournaments top scorer. Spain won the silver medal in this championship, losing to Brazil in the final. The following year he led the Spanish team to another silver in the same tournament, and after yet another great tournament by him he was awarded the Golden Player of the tournament.
He made his debut in the senior national team on the 1st of March 2006 in a friendly game against Ivory Coast. He was named in the starting eleven even, and he also assisted David Villa to a goal. Fàbregas represented the Spanish national team a total of 110 times and scored 15 goals in those matches. He was also part of the Spanish team that won the FIFA World Cup in 2010 and the UEFA European Championship winning teams in 2008 and 2012. He was also played for Spain in the FIFA World Cup in 2006 and 2014 and UEFA European Championship 2016.
Records by Cesc Fàbregas
He have beaten many records during career, especially when he was a young player and kind of "on top of the world" midfielder. Here are some of his records and top achievements.
Fàbregas became the youngest player ever debuting for Arsenal, at the age of 16 years and 177 days. Later he also became the youngest first goal scorer for Arsenal (scoring in the League Cup), and eventually becoming the clubs youngest player ever scoring in the Premier League.
He was awarded Arsenal Player of the Season two times, the season 2006–07 and 2009−10.
Cesc Fàbregas was the fastest player ever in Premier League delivering 100 goal assists. He reached 100 assists in a game for Chelsea against Stoke on the last of December 2016, in his 293rd Premier League game.
He was part of the incredible Spanish national team that won three straight major international tournaments: first the UEFA European Championship in 2008, followed up by becoming World Champions in the FIFA World Cup in 2010 in South Africa, and finally defending their UEFA European Championship title in 2012.
Q&A about Cesc Fàbregas
Is Cesc Fàbregas a La Masia (Barcelona's youth academy) product?
Yes, he is. He spent six years at the academy. However, he started playing as a kid in Mataró and moved to Arsenal before he made a senior debut in FC Barcelona.
Why did Fàbregas leave Barcelona for Arsenal as a teenager?
Although he played a lot in the Barcelona's youth academy teams, and performed very well, the fierce competition in the Barcelona senior team made him feel that his chances to getting any playing time there were limited at that time.
Links related to Cesc Fàbregas
News and articles about Cesc Fàbregas