Isco - 2012 Golden Boy award winner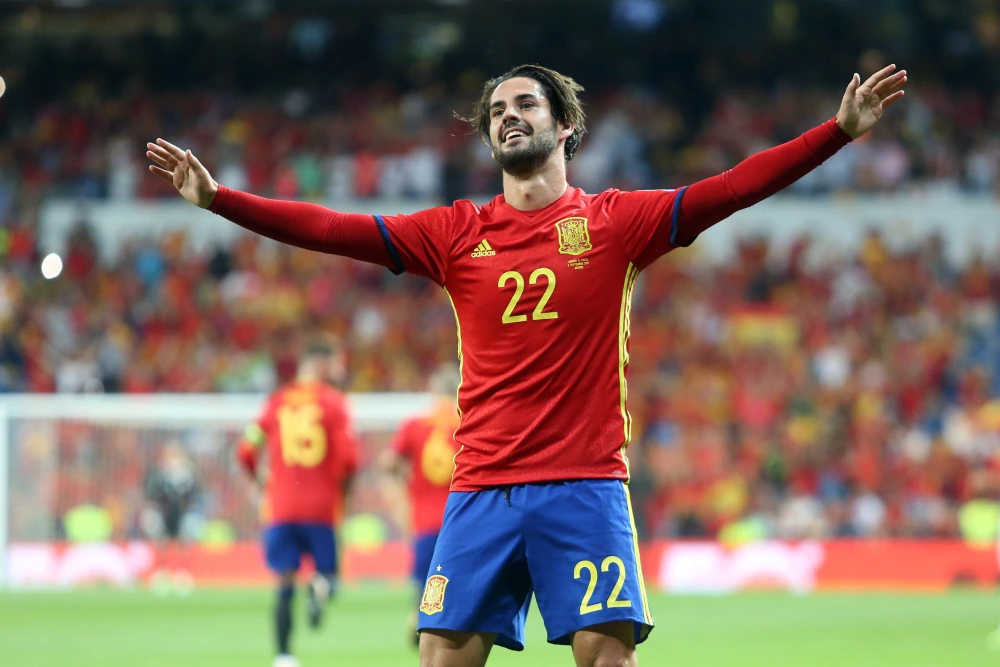 Award date
22 Dec 2012
Award age
20 and 245 days
Nationality
Spain
Position
Midfielder
Club (when winning)
Málaga
Birth date
21 Apr 1992
Current club
No club
The Spanish midfielder Isco won the Golden Boy award in 2012, just ahead of AC Milan's Stephan El Shaarawy and the Belgian goalkeeper Thibaut Courtois.
First club - Valencia
Francisco Román Alarcón Suárez, which is Isco's full name, was born in Benalmádena on Costa del Sol, just outside of Málaga on the 21st of April 1992. At the age of 14 he joined the youth academy of Valencia, but before he could really establish himself in the senior team, he decided at the age of 19 to return to Andalucía and join the Málaga instead.
In Málaga he really started to bloom and already during his first season in the club he established himself as one of the best players in the team. His great performances the second half of the 2011/2012 and the great start for him in the season 2012/2013 was what led to him to winning the Golden Boy award 2012.
Signing for Real Madrid
After two splendid seasons in Málaga it was bound to happen that a major club would sign him, and in the summer of 2013 Real Madrid did signed him, and they paid Málaga €30 million. In his debut for Real Madrid he both scored a goal and assisted to the other in their 2-1 victory against Real Betis.
Isco played for Real Madrid for nine seasons and although he from time to time was being absolutely brilliant, he never really established himself as a regular starting 11 player. The fierce competition among all star players in Real Madrid of course made it difficult to do so.
Although, at his best moments during all these seasons, he was for sure considered to be a world class player, but in the last seasons for Real he got further and further away from being a start player. In total Isco played 246 matches for Real, scoring 37 goals.
Failed in Sevilla
In August 2022 it was announced that Isco was finally leaving Real Madrid and he decided to sign a two-year contract with Sevilla. Before the end of the year, on the 21st of December 2022, Isco and Sevilla made an agreement to terminate the contract since Isco "did not meet the club's expectations" according to the Sevilla coach Jorge Sampaoli.
Isco in the Spanish national teams
Isco was a very big talent when being a teenager, and all his appearances in all the Spanish youth national teams proves that. In total he played 67 games for all youth teams from U16 up to U23.
He made his debut in the senior national team on the 6th of February 2013 in a friendly match against Uruguay, and scored his first goal for Spain on the 15th of November 2014 in a UEFA Euro 2016 qualification game against Belarus. In March 2018 he scored a hat-trick against Argentina in friendly game.
Isco was part of the Spanish squad in the FIFA World Cup 2018 in Russia, and he also scored a goal against Morocco in the group stage.
Q&A about Isco
Which players have Isco been compared with?
Isco have actually been compared to Zinedine Zidane, by Zinedine Zidane himself. This was back in his heydays in 2013-2014 when he was regularly referred to as "one of the most promising players in the world".
Links related to Isco
News and articles about Isco