Paul Pogba - 2013 Golden Boy award winner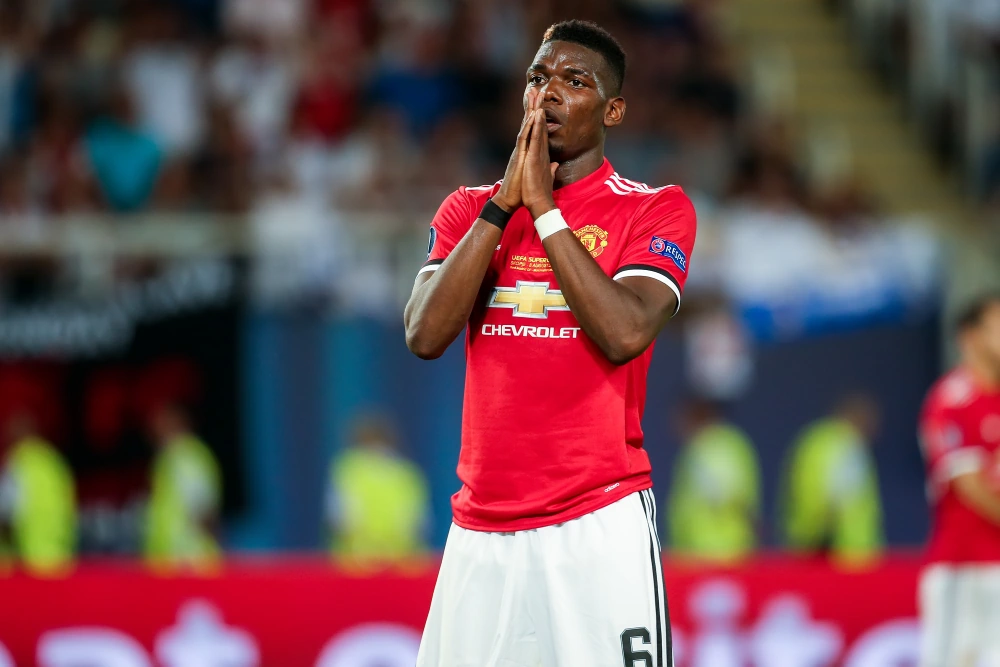 Award date
4 Dec 2013
Award age
20 and 264 days
Nationality
France
Position
Midfielder
Club (when winning)
Juventus
Birth date
15 Mar 1993
Current club
Juventus
The French midfielder Paul Pogba was awarded the Golden Boy price in 2013, playing for Juventus at the time. He received the award ahead of players like Romelu Lukaku, Julian Draxler, Raphaël Varane and Marquinhos.
First club Le Havre
Paul Labile Pogba was born in Lagny-sur-Marne, just outside of Paris, on the 15th of March 1993. Pogba started his football schooling in various small local clubs before signing for Le Havre youth team. Before ever debuting for the senior team Pogba left Le Havre for England and Manchester United, a "transfer" that led to a lot of commotion between the clubs since Le Havre thought that United acted unethically, but United were cleared by FIFA.
In United Pogba was a big success in the youth teams and he was promoted to the senior team for the season of 2011/2012. The first half season he spent playing for the reserve team but on 31st of January 2012 he made his first team debut for Manchester United against Stoke. He made a few more appearances, coming on as a substitute, in the remains of the season. However, in July 2012 Pogba signed for Juventus instead of renewing his contract with United.
In Juventus - the first spell
While playing for Juventus things really took off for Pogba. He debuted for the club on the 22nd of September 2012 and he quickly became a regular playing player in his new club. Pogba had four very successful seasons in Juventus where he bloomed out to become one of the worlds most respected midfielders. He also won Serie A all four seasons with Juventus the seasons 2012/2013 to 2015/12016, as well as the Italian cup twice.
Back to Manchester United
In August 2016 his old club Manchester United signed him back, but instead of getting him on free transfer (as Juventus did), United had to pay Juventus €105 million, the worlds highest transfer fee ever at the time. This time Pogba stayed in the club for six seasons. During his second time in the club he certainly he had his ups and downs. Sometimes he was the brilliant world class player he can be, and sometimes he got a lot of critic for showing lack of discipline, bad mood and just seemed to be out of form.
After six seasons in Manchester he left the club on free transfer, and once again joined Juventus. Because of a knee injury he gained during the summer of 2022 he missed the first half of the season 2022/2023.
Paul Pogba in the national team
Pogba played in all the youth national teams, all the way from U16 up to U20. He was the star and even the captain of the team in the FIFA U-20 World Cup 2013, and he led them to a win in that tournament, and he even won the award for being the best player in the tournament.
His debut in the senior national team happened on the 22nd of March 2013, when he played in a World Cup qualifier game against Georgia. His first goal in the national team came on the 10th of September 2013 against Belarus in the same qualification, helping France to a 4-2 win.
Pogba was part of France UEFA Euro squad in 2016 and 2020. He was also part of the FIFA World Cup team in 2018 in Russia, the team that became world champions. For the FIFA World Cup in Qatar 2022 he was left out of the squad due to his knee injury that kept him away for his first half in Juventus.
Records by Paul Pogba
Here are some of the records and impressive performances achieved by Paul Pogba over the years.
When Pogba was bought back from Juventus to Manchester United in 2016 he costed United €105 million, which was a world record transfer fee at the time.
His manager at the time of this transfer, the late Mino Raiola, earned himself €27 million on the transfer, the highest agent fee ever at the time.
In the start of Premier League season 2021/2022 Pogba assisted to seven goals in the first matches, which was a new record.
Paul Pogba was the first professional footballer to get his own emoji on Twitter.
Q&A about Paul Pogba
Is Paul Pogba the most expensive player ever?
Yes and no. He was the most expensive transfer ever in August 2016, when transferring from Juventus to Manchester United for €105 million , but since then we have seen many transfers with a lot higher fee.
Could Paul Pogba play for another national team than France?
Well, he could have had. His parents are from Guinea and Democratic Republic of the Congo (Congo-Kinshasa) so he was eligible to play for any of those countries. However, having played competition games for the French national team he is "stuck" to them. His twin brothers however, Florentin Pogba and Mathias Pogba, are both representing the Guinean national team.
Is Paul Pogba a big player, physically?
He actually quite tall, 191 centimetres (6'3 feet) but not really that muscular. His reported weight through the years have been 84 to 87 kilos, which is not that heavy for a guy reaching 191 centimetres over the ground.
Does Paul Pogba have a personal sponsor?
Yes, his main sponsor over the years have been Adidas. He have also had different cooperations with some video game makers.
Links related to Paul Pogba
News and articles about Paul Pogba