Renato Sanches - 2016 Golden Boy award winner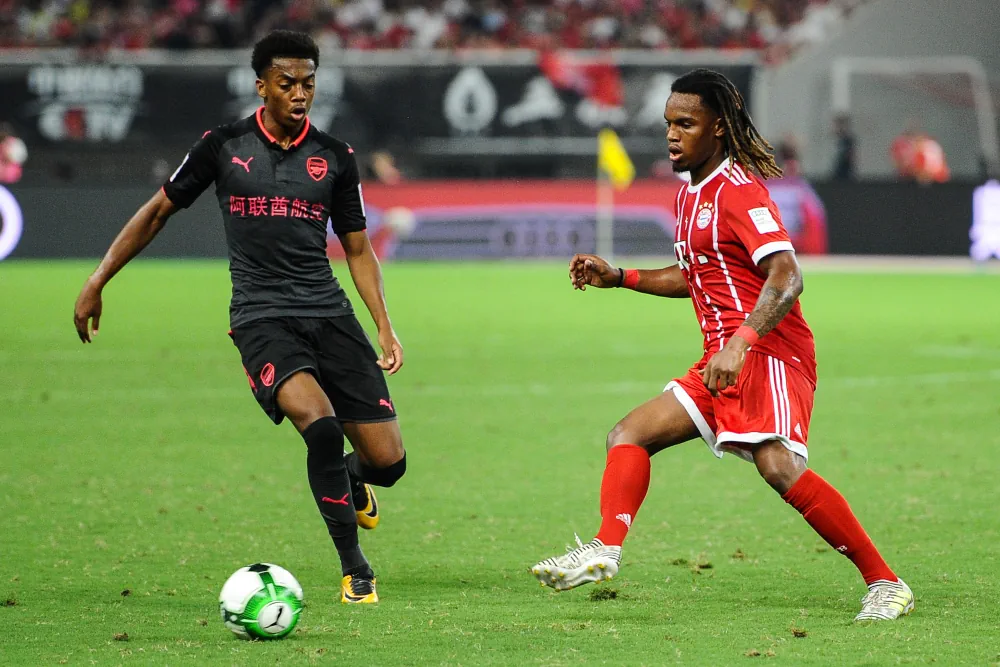 Award date
24 Oct 2016
Award age
19 and 67 days
Nationality
Portugal
Position
Midfielder
Clubs (when winning)
Benfica, Bayern Munich
Birth date
18 Aug 1997
Current club
Paris Saint-Germain
The Portuguese Renato Sanchez became the Golden Boy Award winner in October 2016. He received the award ahead of the Frenchman Kinglsey Coman, team mate of Renato Sanchez in Bayern Munich at the time, and Manchester United's Marcus Rashford.
Renato Júnior Luz Sanches was born in Amadora, Lisboa on the 18th of August 1997. Being from the area it was natural for him, as a big football talent, to join the Lisboa based club Benfica, which he did at the age of 9. He was promoted to Benfica B in 2014, and his performances during this season was enough to impress Benfica and give him a spot in the first team the season after. On the 30th of October 2015 he made his debut for Benfica.
Joining Bayern Munich
During his first (and only) first team season he impressed everyone and was starting to be named one of the biggest football talents in the world. This attracted the German giant club Bayern Munich (Bayern München), who decided to sign him for a total transfer fee of up to €80 million (€35 million signing fee and €45 million in various clauses).
Sanches spell at Bayern Munich never really became what he and the club hoped for, being reported to have a bit of a problem to integrate in Germany and Bundesliga. After a somewhat failed first season he went on loan to Swansea in the Premier League. He didn't really have any success here neither, and after a pale first half of the season he got injured and never played any more matches for Swansea. He was back in Munich for the season 2018/2019 but failed to make an impression this season as well.
Back on his feet in Lille
In August 2019 Sanchez left Bayern for the French side Lille for €20 million. A big sum for a club like Lille but only 25% of what Bayern paid for him. This move really made things change for Sanchez though. In Lille he became an important piece of the team, a team that very surprisingly won Ligue 1 in 2020/2021, and Sanches was a very important part of making this happen. He also did suffer from a lot of injuries during his three seasons as well, but when he was playing he did it great, and it once again made him a respected football player in the eyes of the world.
His success and importance for Lille made Paris Saint-Germain sign him in August 2022, and by doing so he re-joined his manager Christophe Galtier, who was the manager for Lille when they won the Ligue 1 title. He signed a 5 year contract with PSG when joining.
In Portugal's national team
Renato Sanches was a very important part of all of Portugal's youth national team, from U15 up to U21. His first match for the senior national team was on the 25th of March 2016 in a friendly game against Bulgaria, Bulgaria won the match with 1-0. He was also part of the Portuguese Euro 2016 team in France and played an important role when Portugal won the gold medal, he was even selected as man of the match in two of the games.
Despite his success in the Euro 2016 he was out of the team for a while, during his less successful spell at Bayern Munich, but he is nowadays basically a regular in the squad again and was part of both the Euro 2020 and FIFA World Cup 2022 squads.
Records by Renato Sanches
These are some of the records held (or was at the time of its performance) by Renato Sanches.
Renato Sanches is the youngest player ever to play and win a final in a UEFA Euro tournament.
When Renato Sanches signed for Bayern Munich he was the most expensive player ever sold from the Portuguese Primiera Liga.
Being part of Portugal's UEFA Euro squad 2016 made him the youngest Portuguese in history selected for an international tournament, and he broke the record that was held by Cristiano Ronaldo.
Q&A about Renato Sanches
Does Renato Sanches have any nicknames?
Sanches do not really have any nicknames, known to the public at least. His grandmother called him "Bulo" when he was a kid though.
Was Renato Sanches eligible to play for another nation than Portugal?
Yes, Renato Sanches father is from Sao Tome & Principe and his mother from Cape Verde, which made him eligible to have chosen any of these two countries to play for.
Links related to Renato Sanches
News and articles about Renato Sanches