Erling Braut Haaland - 2020 Golden Boy award winner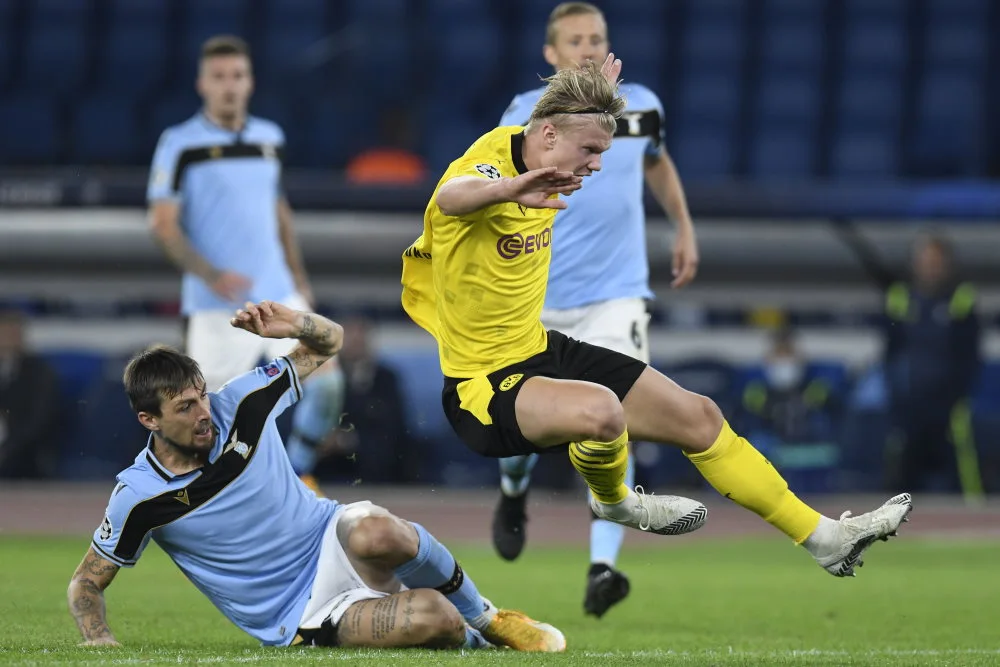 Award date
21 Nov 2020
Award age
20 and 123 days
Nationality
Norway
Position
Forward
Club (when winning)
Borussia Dortmund
Birth date
21 Jul 2000
Current club
Manchester City
The Norwegian striker Erling Braut Haaland (actually correct spelling Håland) won the Golden Boy Award in 2020 while playing for Borussia Dortmund, ahead of Barcelona's Ansu Fati and Bayern Munich's Alphonso Davies.
Haaland's background
Haaland was born in in Leeds and is the son of the Norwegian Alfie Haaland (actual name Alf-Inge Håland), 34 times capped for the Norwegian national team, who was playing at Leeds United at the time. His mother is Gry Marita Braut who was also an athlete, competing in heptathlon.
Already at the age of five he started playing football in the Norwegian club Bryne. Being a huge talent he played his first match on senior higher level already at the age of 15 years and 295 days when he played for Bryne in the second tier 1st Divison league in Norway. In total he played 16 matches for Bryne on a senior level but never managed to score.
Start of the senior professional career
Haaland's first professional contract was with another Norwegian club, Molde, which he joined in February 2017. In Molde he played under the management of Ole Gunnar Solskjær. He scored in his first match for Molde in a cup game. He stayed in Molde for two seasons, and his second season he became the top goalscorer of the season for his club.
In August 2018 the Austrian club Red Bull Salzburg and this is the club where things really started to happen for Haaland. It took him a while to debut for his new club but did so on the 17th of February 2019. It took him even longer to start producing goals, but when he did, the goals started to drop in. In a few months he scored three hat-tricks and when he debuted in the UEFA Champions League, in a 6-2 win against Genk on the 17th of September, he scored a hat-trick there as well. He followed this up by scoring against Liverpool on Anfield Road and netted two against Napoli later on. He beat several Champions League records this season, becoming one of the hottest young strikers in the world, and was awarded a transfer to Borussia Dortmund for this.
In Borussia Dortmund he scored a hat-trick in his debut, even though he started on the bench and only came onto the pitch in the second half. In total he scored a staggering 62 goals in 67 matches in Dortmund, despite having a lot of injury problems in his third season in the German club.
Joining Manchester City
On the 10th of May 2022 it was announced that Manchester City had signed Haaland for the (in todays football) modest transfer fee of €60 million, which was the release clause in his contract. Of course several top clubs in Europe were eager to sign him, but probably the fact that his father had played in City made him choose the club. In his first season in City he scored three hat-tricks in the Premier League the first months, making him the quickest player in the history of Premier League doing so.
He first represented Norway's national team on the 5th of September 2019 in a Euro qualifier against Malta.
Q&A about Erling Braut Haaland
How tall is Erling Braut Haaland?
Haaland height is 194 centimetres (almost 6′4 feet). He is not only a very tall striker, he also has a very strong physique, making him very hard to handle in front of the goal for most defenders.
Which are Erling Braut Haaland favourite players?
He have stated that his biggest idol in his youth were Zlatan Ibrahimovic as well as Cristiano Ronaldo.
Is Erling Braut Haaland English as well?
No, Erling Braut Haaland is born in Leeds, thus potentially were able to play for the English national team by being so. However, both his parents are Norwegians and for Haaland it was never any question about what national team he was going to play for - Norway.
Links related to Erling Braut Haaland
News and articles about Erling Braut Haaland