Kylian Mbappé - 2017 Golden Boy award winner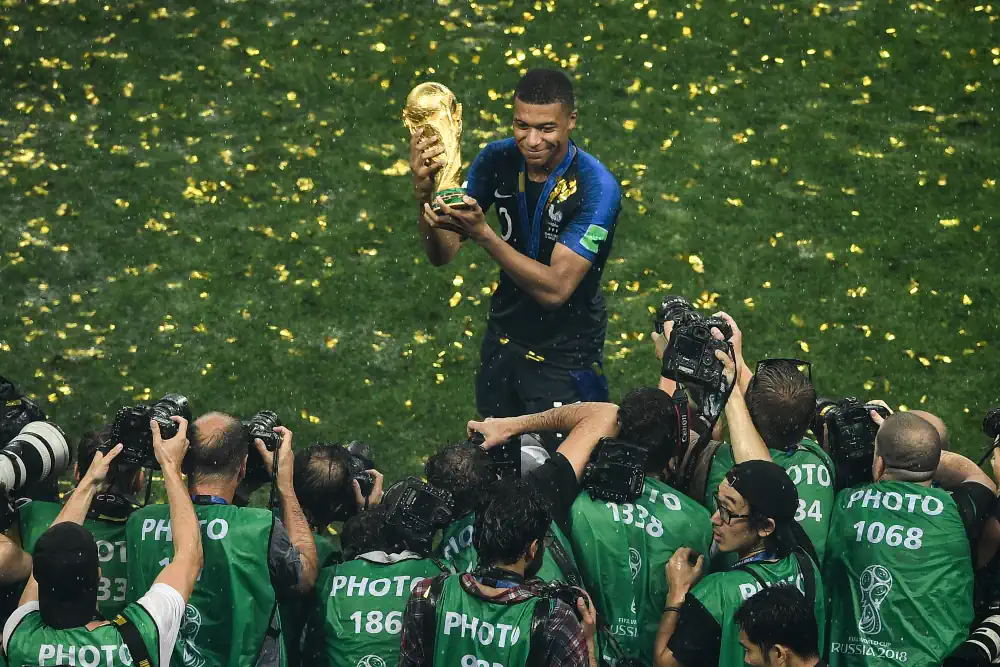 Award date
23 Oct 2017
Award age
18 and 307 days
Nationality
France
Position
Forward
Clubs (when winning)
Monaco, Paris Saint-Germain
Birth date
20 Dec 1998
Current club
Paris Saint-Germain
The French striker Kylian Mbappé obtained the Golden Boy award in 2017 ahead of fellow Frenchman Ousmane Dembele, playing for Barcelona at the time, and Brazilian Gabriel Jesus, residing in Manchester City back then.
The said reason the award was given to Mbappé was his important part of the Monaco team that won the Ligue 1 title in the season 2016/2017, as well as taking Monaco all the way to the semi-finals in Champions League.
The beginning of Mbappé's career
His full name is Kylian Mbappé Lottin and he is born in a small town called Bondy, just outside of Paris. As a youngster he played in the local club but at the age of 16 he was signed by Monaco. Initially the intention was that Mbappé should play for the Monaco B, but because he was showing such impressive skills from the arrival he was promoted to the first team after just three weeks in Monaco.
His time in Monaco
After less than three months in Monaco he made his debut for his club in a 1-1 draw against Caen, on the 2nd of December 2015. When he entered the pitch in the 88th minute he then became the youngest player ever playing in Monaco's first team, at the age of only 16 and 347 days. The previous record young player was a certain someone called Thierry Henry.
In the season 2016/2017 Mbappé got his big breakthrough. This season was a big "youngest ever" record breaking season where he beat several scoring records along the way including various hat-tricks in the French cup and the league. He also scored a lot of goals in the UEFA Champions League, and Monaco went all the way to the semi-finals this season, where eventually Juventus became to tough for Monaco and their new rising star. The big achievement this season though was helping Monaco secure the Ligue 1 title this season. He scored 15 goals in the league, despite being only 18 years old.
Joining Paris Saint-Germain
After his fantastic season it was only natural that Paris Saint-Germain would open up their wallet widely to secure him as a PSG player, and so they did on the 31st of August 2017. He first joined on loan but with a clause to permanently sign him for a staggering €180 million, making him the most expensive teenager ever, and the second most expensive player ever after Neymar moved to PSG.
Mbappé's time in PSG has been nothing but success (which is natural considering he in reality is perhaps a too good player for Ligue 1). He scored in his debut and on the 4th of March 2023, scoring an overtime goal against Nantes in a 4-2 win, he became the best goal scorer in PSG history with 201 goals for the club.
Records by Kylian Mbappé
Mbappé has beaten many many records, here you find a list of some of the records that he either hold or did beat when they occured.
He is the youngest goal scorer in Monaco's history, scoring his first goal at the age of 17 years and 62 days.
He is the player that have scored most goals in FIFA World Cup finals, which is 4 goals. He scored one goal for France in the final 2018 and a hat-trick in the final 2022 against Argentina.
He is the best goal scorer in Pars Saint-Germain's history. When he scored his 201st goal on the 4th of March 2023 he passed Edison Cavani's 200 goals.
He is the youngest player to score 10 goals in UEFA Champions League, which he did at the age of 18 years and 11 months.
He is the youngest player to appear as the solo player on the cover of the video game FIFA 21.
Q&A about Kylian Mbappé
Is Kylian Mbappé from PSG's youth academy?
No. Mbappé is born and raised just outside Paris but instead of joining Paris Saint-Germain's youth academy he moved to Monaco at the age of 16.
When will Kylian Mbappé join Real Madrid?
Well, actually no one knows. What is for certain is that Mbappé has been dreaming about playing for Real Madrid since he was a kid and in May 2022 everyone speculated that he would join Real. However, on the 21st of May it was surprisingly announced that he instead extended his contract with PSG until 2025, a contract that made him the best paid player in the world. The feeling is though that eventually Mbappé is destined to play for Real Madrid at some point...
Links related to Kylian Mbappé
News and articles about Kylian Mbappé