Mario Götze - 2011 Golden Boy award winner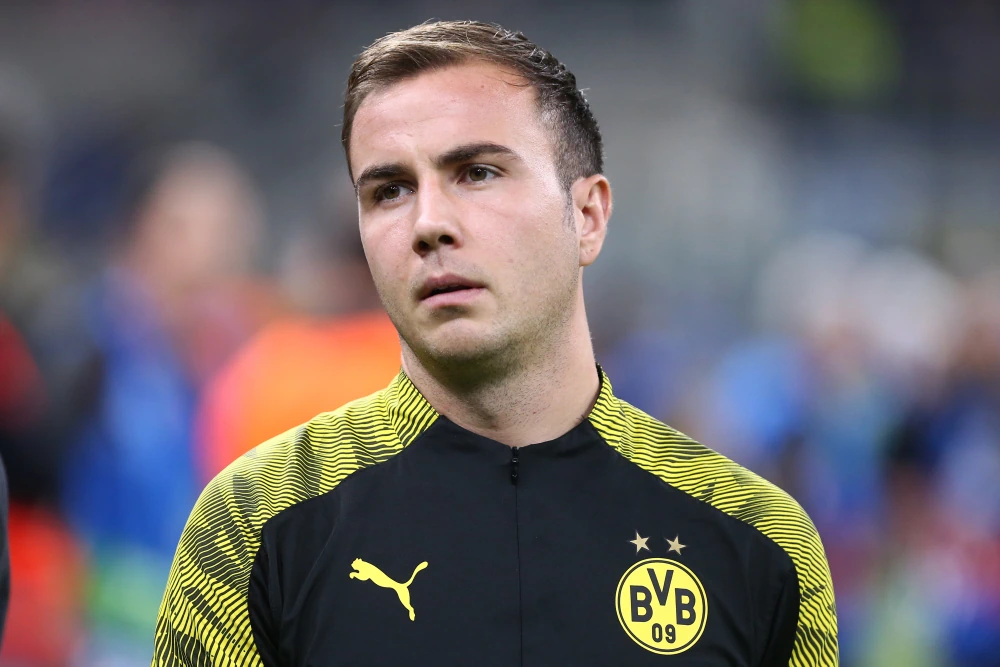 Award date
9 Dec 2011
Award age
19 and 189 days
Nationality
Germany
Position
Midfielder
Club (when winning)
Borussia Dortmund
Birth date
3 Jun 1992
Current club
Eintracht Frankfurt
The 2011 winner of the Golden Boy award was the German Mario Götze. He won the award just ahead of Spanish midfielder Thiago Alcântara and Belgium Eden Hazard.
Borussia Dortmund is where it all started
Götze was born in Memmingen in Bavaria, Germany. Since his father was a professor at the Dortmund University of Technology he started playing for Borussia Dortmund, already at the age of eight. He made his debut in the first team on the 21st of November 2009, and he came to stay in the club for four seasons. For every season he played in Dortmund he became a bigger and bigger name, and when he left the club for Bayern Munich in 2013 he was considered one of the worlds most promising and exciting young football players in the world.
Joining Bayern Munich
On the first of July 2013 Mario Götze joined Bayern Munich for a transfer fee of €37 million. This was the release clause in his contract and the sum made him the most expensive German player in history. At that time, everyone though he was worth the money.
In this first two seasons in Bayern Munich, Mario Götze was maybe not a complete success but at least a regular playing player. In his last season in Munich he struggled more and more and were mostly played as a substitute. After his initial success and his World Cup winning goal (more on that further down) he went from being on top of the world to being considered a failure in Munich.
Back to Dortmund
Despite being kind of hated in Dortmund after the not so much appreciated move to the antagonists Bayern Munich, he went back to Borussia Dortmund in July 2016. This time he stayed for four seasons and he was doing quite good again initially but was for every year getting further and further away from the starting 11. When his contract ended in the summer 2020 it was not extended.
Trying his luck in Holland
In October 2020 Götze decided to move to Holland, signing for PSV Eindhoven. With all respect to PSV, at the age of 28 when a player is usually on top of his career, this is probably not where Götze expected to be at this point. However, during his time in PSV he did quite well and became a popular player for the Dutch club. In June 2022 he decided to move back to Germany though, signing for Eintracht Frankfurt who reportedly paid PSV €3 million for his signature.
In the German national team
Since Götze was a super talent he of course played a lot in the youth national teams for Germany. The highlight was a European champion title with the German under-17 team in 2009, at the age of 16.
The debut in the senior national team came on the 17th of November 2010 against Sweden at the age of 18, and he scored his first goal against Brazil on the 10th of August 2011 at the age of 19. His most important goal in the national is of course not that goal, but his goal in the World Cup final 2014 in Brazil between Germany and Argentina. He started this match on the bench but came on to the field in the 88th minute when the match was still goalless. The match went to extra time and in the second half of extra time Götze scored on a pass from André Schürrle, bringing the gold to Germany! This important goal gave him the Man of the Match award as well, despite playing only just above 30 minutes in the game.
Apart from (of course) being part the FIFA World Cup 2014 squad he was also in Germany's UEFA Euro 2012 and UEFA Euro 2016 squads. He very surprisingly made a comeback in the national team for the FIFA World Cup 2022 in Qatar, but it was not a successful championship neither for him nor Germany.
Records by Mario Götze
These are some of the records set and achievements by Mario Götze during his career.
When Götze was bought by Bayern Munich in 2013, Bayern paid €37 million to Borussia Dortmund for them to release him. This was the highest amount paid for any German player at the time.
In 2009, Götze was selected as Germany's brightest under 17 talent by the German Football Association.
In 2014, thanks to his World Cup winning goal, Götze was on the shortlist for the FIFA Ballon d'Or price (the Ballon d'Or winner that year was Cristiano Ronaldo)
Q&A about Mario Götze
What is Mario Götze biggest achievement?
There is no question about that what Mario Götze will be mostly remembered from is his World Cup final winning goal in Brazil 2014. In the final between Germany and Argentina Götze scored the match only goal on extra time, in the 113th minute, making Germany World Champions.
What sponsors do Mario Götze have, or have had?
His main sponsor when he was young, and considered to be one of the worlds most exciting young players, was the shoe and clothes brand Nike.
Links related to Mario Götze
News and articles about Mario Götze