Gavi - 2022 Golden Boy award winner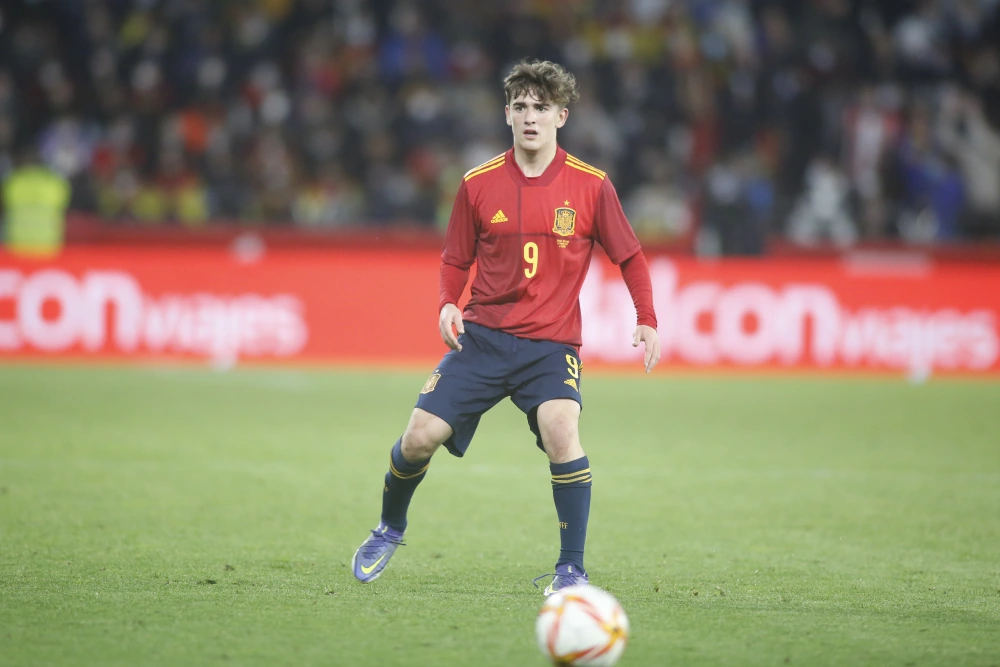 Award date
21 Oct 2022
Award age
18 and 77 days
Nationality
Spain
Position
Midfielder
Club (when winning)
Barcelona
Birth date
5 Aug 2004
Current club
Barcelona
Gavi won the Golden Boy award in 2022, making it the second year in a row that a midfielder from Barcelona won the award. The year before his team mate Pedri won.
Gavi's early years
The Spaniard Gavi was born and raised in Los Palacios y Villafranca, a small city in Andalusia about 30 kilometres south of Sevilla. Showing great football talent and "outgrowing" his hometown club he joined Real Betis youth academy in Sevilla in 2012. When he was 11 years old he moved across the country to join the Catalan club FC Barcelona.
His professional career
In 2020 he was awarded his first professional contract with Barcelona. Starting off in Barcelona B he made his debut there in February 2021. One and a half year later he made his debut in the Barcelona A team, playing his first La Liga match on the 29th of August 2021. He scored his very first professional goal on the 18th of December 2021 in a 3-2 win at home against Elche.
Gavi have represented the Spanish national youth teams on U15, U16 and U18 level. Being such a great talent as he is he kind of surpassed the U21 team and went straight up to playing for the senior national team. On the 6th of October 2021 he made his debut in a UEFA Nations League game against Italy at the age of 17 years and 63 days. This made him the youngest player ever playing for the Spanish national team.
He currently has a contact with Barcelona stretching until 2026
Q&A about Gavi
When did Gavi score his first national team goal?
He scored his first national team goal in a UEFA Nations League against Czech Republic, scoring the 1-1 goal in the match, and by doing so he became the youngest player ever scoring for the Spanish national team. The match final result was 2-2.
How long contract does Gavi have with Barcelona?
At this moment Gavi has a contract with FC Barcelona stretching until the end of June 2026.
Does Gavi have a buyout clause?
Yes, the buyout clause in Gavi's contract, a contract signed in September of 2022, is a staggering €1 billion. At the time of the signing this was the highest buyout clause for any player in the world.
What players is Gavi compared with?
Being a Barcelona players it is only natural to compare him with previous Barcelona players, and players he has been compared with are Barcelona legends like Xavi (also his coach in Barcelona) and Andrés Iniesta.
How tall is Gavi?
Gavi is not the tallest player on earth, being only 173 centimetres (5'8 feet) tall.
Links related to Gavi
News and articles about Gavi