Lionel Messi - 2005 Golden Boy award winner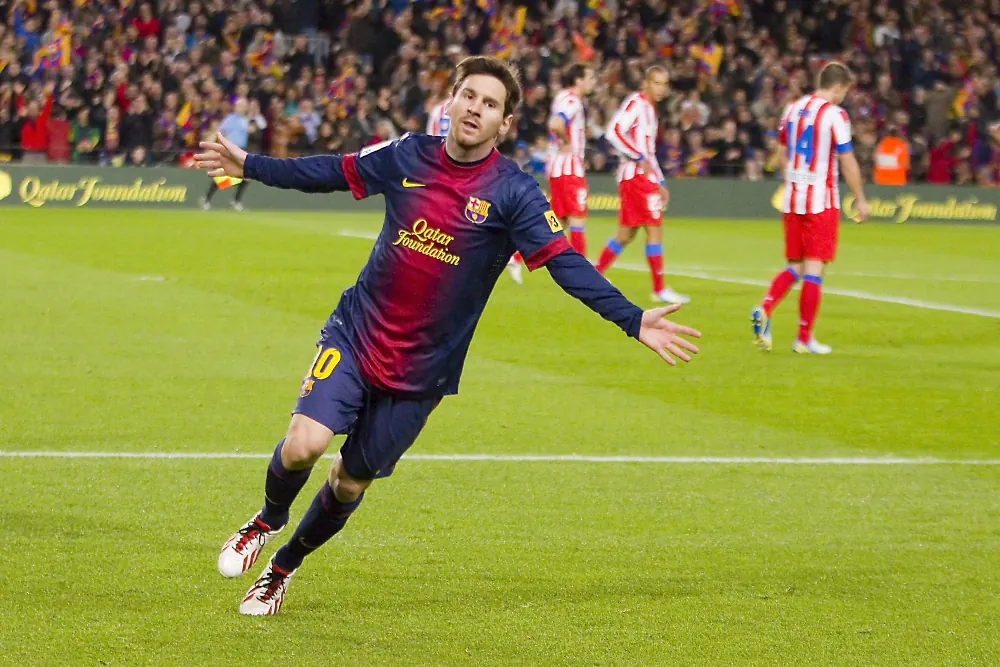 Award date
14 Dec 2005
Award age
18 and 173 days
Nationality
Argentina
Position
Forward
Club (when winning)
Barcelona
Birth date
24 Jun 1987
Current club
Inter Miami CF
Lionel Messi was awarded the Golden Boy of the year in 2005 and received ahead of Wayne Rooney (previous years winner) and the German Lukas Podolski.
His years before Barcelona
Leo Messi was born on 24th of June 1987 in the city Rosario in Argentina. He started off playing football as a little four year old kid in the club Grandoli, but as a six year old he joined his favourite club Newell's Old Boys.
At the age of 10 Messi was diagnosed with growth hormone deficiency which required costly monthly treatments, and neither Newell's Old Boys nor any other club in Argentina were willing to pitch in for his treatment. Because Messi's family is of Spanish descent they had relatives in Catalonia and when Barcelona could promise to pay for his treatment he came to move to Spain and Barcelona.
His years in Barcelona
Lionel Messi's success story and importance for Barcelona is known to everyone who have the slightest interest in football. That story could be written for pages and pages, but we keep it to a short here.
Messi played at La Masia, Barcelona's youth academy, until he 2003 started to play with the Barcelona C team. He quickly were moved up to Barcelona B and then quickly to the first team. He made his debut for the first team in a competition match when he was only 17 years and 114 days old against Espanyol making him, at the time, the youngest player who played a competition game for Barcelona.
Starting from season 2005/2006 he started getting more and more playing time, playing in half of the La Liga game and from season 2006/2007 he was more or less a regular starting player in Barcelona. In his first regular season he scored a decent number of goals but from the 2008/2009 season he really became the goal machine he is so famous for. In the two seasons 2011/2012 and 2012/2013 he scored 96 goals in 69 La Liga matches, which is a goal average of 1,39 per match.
In total Messi played 17 seasons of senior football in Barcelona. During these years he played 778 competition games and scored 672 goals. He won 10 La Liga titles, 7 Copa del Rey and 4 UEFA Champions League titles. Plus of course various other less important titles.
His time in Barcelona had to come to an end in July 2021. His contract expired at that time and due to Barcelona's financial problems in combination with harsh La Liga financial rules it was impossible for Messi and Barcelona to sign a new contract, despite a will from them both to do so.
Move to Paris Saint-Germain
Since Messi couldn't play in Barcelona anymore and was a free agent he could choose to go where ever he wanted. Instead of choosing a something that wuld be a challenge (like when Diego Maradona chose to move to the underdog Napoli after his Barcelona session), Messi chose the money and signed for Paris Saint-Germain.
His first season in PSG can only be described as a failure. He did have some injury issues and most likely feeling a bit confused and lost having left his Barcelona, but his result of 11 goals in 34 matches wasn't really worthy of Messi.
In his second season 2022/2023 he was obviously feeling more comfortable in the club because this season he showed some of the real Messi: scoring more, assisting more and in general, playing a lot better football. Possibly it was his way of getting in shape for what were to come in December of 2022, finally winning a FIFA World Cup title.
Lionel Messi in the Argentina national team
You might think that Messi was kind of directly "promoted" to the senior national team but as a teenager he did play 14 games for the Argentinian U20 team. He played in the FIFA World Youth Championship 2005, leading Argentina to the gold medal there. He was also awarded the Golden Ball for being the best player in the tournament as well. In 2008 Messi won a gold with Argentina in the Summer Olympics with the U23 team, defeating Nigeria in the final.
He debuted for the senior national team of Argentina on the 17th of August 2005, it was not exactly a glorious debut though. Messi came on to the pitch in the 63rd minute but was sent off with a red card only two minutes later.
Messi have represented Argentina in five FIFA World Cup, his first one was in 2006 in Germany but he still wasn't a regular player back then. In 2010 Argentina was eliminated in the quarter-finals against Germany. In Brazil 2014 Argentina reached the final but was once again beaten by Germany. In 2018 Argentina was eliminated by France already in the round of 16.
Messi also have played in six Copa América. In 2007 Argentina lost the final against Brazil, and in 2011 they were knocked out by Uruguay in the quarter-finals. In 2015 and 2016 (this year the tournament was called "Copa América Centenario") Argentina lost two finals, both times against Chile. In 2019 were knocked out in the semi-finals against Brazil, but won the bronze medal by this time winning against Chile.
The lack of gold medals in the national team really wore on Messi. He received a lot of criticism in Argentina and even briefly retired from the national team after the Copa América Centenario in 2016. He changed his mind pretty quickly though and was back in the team for the qualifications for FIFA World Cup 2018.
Messi eventually got to win his gold medals with Argentina. First Argentina won Copa América in Brazil in 2021, after Argentina won against Brazil in the final with 1-0. The true highlight was yet to come though, and we are of course talking about the FIFA World Cup gold in Qatar 2022. In a fantastic final against France Messi scored two goals, but the final result after extra time was 3-3 (after a hat-trick by another Golden Boy award winner Kylian Mbappé). But Argentina were stronger than France in the penalty shoot-out, and Messi could finally lift the World Cup trophy.
Records by Lionel Messi
The list of records and great achievements by Lionel Messi could of course be made pages after pages long, but here is a few of them.
Lionel Messi have scored 672 competition goals for Barcelona. That is 446 goals more than second best César Rodríguez who scored 226 goals for the club in the 40s and 50s.
Messi have won the most prestigious individual title within football, the Ballon d'Or, seven times.
He has won the European Golden Shoes, the award for the best goal scorer in Europe during a season, six times.
Messi has received two Golden Ball awards (a price for the best player in a FIFA World Cup tournament) two times, in 2014 and 2022. No other player have won this award twice.
He have scored most goals in the national team of Argentina. After they won the World Cup in Qatar he had scored 102 goals, but since he is still playing that record will for sure be improved.
Q&A about Lionel Messi
Have Messi ever played club football in Argentina?
No, not an a senior level at least. He did play football as a kid in Newell's Old Boys but he moved to Barcelona already at the age of 13.
How short (tall) is Messi?
Lionel Messi is 170 centimetres (5 ft 7 in) tall which is of course not a lot for a man. However, it is not crazy short either, which many people seem to think he is.
Could Messi have played for the Spanish national team?
Yes, actually he could have. He does hold a Spanish citizenship which made him eligible to play for Spain. At U17 level the Spanish Football Federation tried to convince him to play for Spain but Messi declined, saying he had only Argentina in mind.
Links related to Lionel Messi
News and articles about Lionel Messi